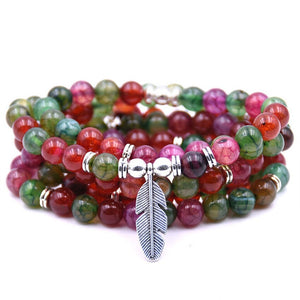 This bright Dragon's Vein Agate Wrap Bracelet with crackling spidery veins, introduce transformational energy and protection into everyday social situations.
Agate is one of the oldest of healing stones. In ancient times Agate was highly valued as a talisman or amulet, it was also said to quench thirst and protect from fevers. There are legends that tell us that Persian magicians used agate to divert storms. As a stone of strength, it was used on the breastplates of armour, to bring warriors strength and make them victorious in battle.
Agates are very protective, making them the perfect stones for amulets. Agate is said to enhance one's perceptiveness and to stimulate analytical capacity, and to provide balance between one's physical, emotional, intellectual and spiritual states. 
Dragons Vein Agate can heighten creative visualization. It strengthens the ability and will to manifest one's life purpose and will help one discover the truth in a matter and to aid in accepting ones fate. Agate is also said to alleviate hostilities and promote goodwill. Agate is believed to help discern truth, accept circumstances, and is a powerful emotional healer. 
Material: Semi-precious Stone, 6mm
Metals Type: Stainless Steel